"What Is Managed Care?" You Probably Already Know The Answer
As Colorado individuals and families that use the Affordable Care Act (ACA) enter the enrollment period for marketplace health insurance plans for 2022, one question that we are often asked is, "What is managed care?" The answer is likely something you're already familiar with. That's because most individual, family and group health insurance plans revolve around the concept of managed care.
Simply put, managed care refers to a way of delivering health care through a network of providers that work together to support patients' overall wellness needs. Managed care includes several different types of network-based arrangements that you have probably heard of, like Preferred Provider Organizations (PPO) and Health Maintenance Organizations (HMO). Regardless of the type of organization, however, managed care is designed to keep costs lower and improve patient outcomes.
So, what is managed care? Here's how it works.
A Network of Health Care Providers
Managed care plans revolve around provider networks. These networks, composed of doctors, practices, hospitals, labs, and other health care providers, serve plan members in a designated geographic area where the insurer offers coverage. The providers in the network contract with the insurance company to provide their services to plan members at reduced costs. The health plan covers more of the cost of care if it is with a network provider, while the out-of-pocket expenses for an insured plan member who sees a provider outside of the network will be significantly higher.
Managed care plans typically focus on preventive care. Most preventive services, such as routine tests and screenings, annual check-ups, and certain types of vaccines, are covered at 100 percent by the insurer, as required by the Affordable Care Act.
Primary Care Providers
Most managed care plans require you to choose a primary care provider (PCP) if you don't already have one. Your PCP is your go-to doctor for preventative care as well as any health problems or issues that may arise. Depending on your health insurance plan, you may be required to see your PCP before making an appointment with a specialist or other doctor. In this sense, the PCP serves as the "manager" of your managed care, coordinating your care and referring you to the appropriate specialist when necessary.
Similarly, under managed care plans, you may need prior authorization from the insurance company for certain types of treatments, procedures, or specialized medications.
Types of Managed Care
Now that you know the answer to "what is managed care?" let's move on to the differences between the four main types of managed care programs. Chances are if you have health insurance, you are probably already enrolled in one of the following plans:
Health Maintenance Organization (HMO)
HMOs manage health care by requiring you to see network providers, including seeing your PCP, before going elsewhere for care. HMOs do not pay for health care services received from providers outside the approved network. While t
his makes HMOs far more restrictive than other types of plans, they also come with much lower premiums.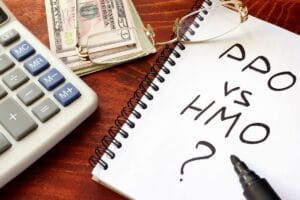 Preferred Provider Organization (PPO)
PPO plans boast the ability to go to any doctor you like, whether within or outside of the network. Additionally, PPOs usually do not require a PCP referral to see a specialist. However, while this gives you the freedom to choose your doctor, you will pay more to see one outside of the approved network.PPOs also typically have higher premiums than HMO plans.
Point of Service (POS)
POS plans are a hybrid of PPOs and HMOs. As in a PPO, you can choose to see any network or out-of-network providers. But, , your share of the costs will be higher than with a typical PPO plan. POS plans are similar to HMOs in that the insurer may require you to see a PCP to manage your health care and provide you with referrals to specialists
Exclusive Provider Organization (EPO)
EPO plans also combine features of PPOs and HMOs. You may not need a visit with a PCP to get a referral to a specialist (as in a PPO), but that specialist will likely need to be in-network for the insurer to pick up the costs. Costs for an EPO plan are usually higher than for an HMO, but less than for a PPO plan.
"What is Managed Care?" Turn to Preferred Insurance To Learn More And Find The Plan That's Right For You.
Do you still have questions about managed care options available to you in Colorado? At Preferred Insurance, our experienced Colorado Springs individual health insurance brokers and group health insurance brokers work hand-in-hand with Coloradans to help them pick the plans and coverages best suited to their needs and budgets. Our knowledgeable and accessible representatives will answer all your questions and provide solutions best suited to your individual and business needs. We are locally owned and operated and provide free quotes in less than 48 hours.
Contact  Preferred Insurance today to schedule a free consultation about your health insurance needs.