Colorado Springs Best Health Insurance Agents
Licensed Independent Health Insurance Brokers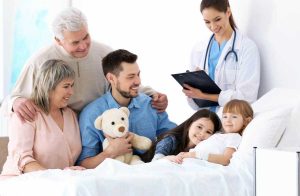 Individual & Family Health Insurance

Our team of Colorado Springs health insurance agents are here to help you anyway we can. As you probably know, individual health insurance in Colorado is controlled by the Affordable Care Act (ACA, or Obamacare).
If you need individual health insurance or family health insurance and you live in Colorado, the best place to start is Connect for Health Colorado.
Other resources for shopping for individual or family health insurance:
Individual and Family Health Insurance in 2019 and Beyond
Prior to 2019, the Affordable Care Act (ACA) required that individual health plans:
Cover pre-existing medical conditions
Not ask health screening questions
Over unlimited annual and lifetime coverage
Provide the 10 essential health benefits.
In 2018 if a health insurance plan did not meet these minimal benefit levels of coverage the plan was labeled "non-compliant."
Related: Own a business? Learn how to keep the best employees by heeding the advice of Colorado Springs best small business health insurance broker.
Health Insurance Changes for 2019
Although the Trump Administration was not able to repeal the Affordable Care Act, it was able to work around the 2018 law and pass legislation to allow health insurers to develop low-cost health insurance alternatives.
These new health insurance alternatives are called Limited Benefit Plans. They are also referred to as supplement and short-term medical plans.
These Limited Benefit Plans do not cover pre-existing conditions and they can ask health screening questions.
Furthermore, Limited Benefit Plans may have limits on coverage and may not offer the essential health benefits required by the Affordable Care Act.
Why Would Anyone Want a Limited Benefit Plan?
For 2019 and beyond, individuals will not be fined if they have a non-compliant health insurance or even if they do not have health insurance.
Beginning in 2019 we saw a divergent marketplace for individual health insurance.
There are two styles of individual and family health insurance coverage: fully compliant ACA plans and low cost stripped down non-compliant health coverage.
The cost difference between these two styles of health insurance plans can be extreme.
There are many individuals and families who do not require extremely rich health insurance and have been forced into buying expensive health plans prior to 2019.
Limited benefit plans will allow healthy individuals and families to purchase low-cost health plans at affordable rates. These Limited Benefit Plans are currently on the market and will grow in popularity beyond 2019.
Limited Benefit Plans are Not for Everyone
If an individual or family member in Colorado have pre-existing medical conditions or uses expensive medications, they will be refused coverage with many of these plans.
Limited Benefit Plans are designed for a healthy population that requires little or no use of medical services and prescription medications.
Since Limited Benefit Plans can screen out individuals who have ongoing medical issues, these premiums can be very affordable.
Limited Benefit Plans will offer hospital, surgery and emergency room coverage at various dollar amounts per day. These plans offer you the choice of selecting preset dollar reimbursement amounts for these services. You select the benefit level that fits your budget.
The ideal candidate in Colorado Springs for a Limited Benefit Plans is someone who is in good health, does not have ongoing prescription needs, and who has a healthy lifestyle.
Recommendations from a Colorado Health Insurance Agent
If you have ongoing medical needs and ongoing prescription use, the traditional ACA compliant plans will still be offered on and off the Health Insurance Exchange.
These ACA compliant health insurance plans will cover pre-existing conditions and will have no limits on annual and lifetime medical coverage.
Many Colorado Springs residents fall into this category of health insurance requirements and will need medical insurance coverage that does not have limits on coverage.
The ACA compliant health plans cost more but they also cover a lot more. So if you have on-going medical needs, an ACA compliant health insurance plan is the way to go for you.
Schedule a Free Consultation with a Colorado Springs Health Insurance Agent
If you live in Colorado Springs and have a limited budget and are in good health and have little or no need for ongoing prescription drug use, a Limited Benefit Plans may be a possibility for you.
We offer free consultations so there is no risk to speak directly with the best health insurance agents in Colorado Springs. We will help you find and apply for the best health insurance for you and your family.