Small Business Health Insurance Broker in Colorado Springss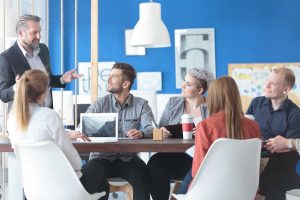 Choose the Best Small Business Health Insurance Broker in Colorado Business
Serving Colorado Springs, Denver CO and surrounding areas
Our team of small business health insurance brokers specialize in helping employers in Colorado Springs and Denver areas.  Your health insurance solution is precisely designed for your business, your employees and your budget.
Since the 1980's we have helped hundreds of small businesses in Colorado find group health insurance plans that are affordable and that offer excellent protection for their employees.  Your employees are your most valuable company asset. Taking care of your employees is taking care of your business.
Benefits of Working with Preferred Insurance
Small business health insurance plans can be complex.  Our brokers can simplify the process and provide expert guidance so you can focus on running your business.
Finding the right mix of medical benefits and pricing for employers and employees is what we do best. We offer onsite and over the phone free consultations.  We will explain your employee benefits options in plain English and make recommendations based on your goals and the needs of your employees.
Our team of small business health insurance brokers service what we sell so we will be there to explain your health plan to your employees in a way they will actually understand.
Health insurance quotes are always fast, free and designed to help employers meet their goals.
What We Provide to Help Your Business Thrive
Regular market comparison quotes so you get best plans and rates
Year-round plan management including adding/deleting employees, billing, claims, etc.
Assistance with COBRA and Colorado continuation requirements
We provide mandated documents required by the ACA
On-site employee meetings to explain, enroll and renew benefits plans
Your advocate dealing with health care provider network issues
Assist employees with claim issues
Help with dental, disability and life insurance
Colorado Group Health is Now Cheaper with Better Benefits than Individual Insurance
Good news for employers – group health insurance  for small businesses in Colorado is available with better benefits and lower costs than individual health insurance.  Now small businesses in Colorado that did not offer employee health insurance are adding medical plans as a benefit to attract and retain talent.
Need to attract and retain top talent? A business that offers health insurance benefits attracts more qualified applicants than companies who don't.  Also, employees are apt to accept a lower salary when health insurance is offered.
Contact Preferred Insurance to schedule a free consultation with a group insurance health broker today.  We can help you make the right investment in your Colorado business – for yourself, and for your employees.
Julie of Preferred Insurance in Colorado Springs explains how they take care of employers by bundling insurance as an innovative way to help retain employees and reduce costs.
Aaron of Preferred Insurance explains how they use Ease, an online employment portal to make it super simple for employees and employers to access health benefits and payroll info online.
Frequently Asked Questions
How do I get health insurance for the employees of my small business in Colorado?
Getting health insurance for your employees is fast and easy. Here are the steps:
Contact us to schedule a free consultation (719) 599-7989
We can meet either on the phone, at your business, or at our Colorado Springs or Denver offices
After the meeting give us one day to create the best health insurance quotes for your specific requirements
We will email your the quote info
After approving the health insurance quotes we will get to work and start the process.
Why are you the best small business health insurance broker in Colorado Springs?
We specialize in group insurance for small businesses in Colorado Springs and surrounding areas.  We have been in business over 30 years.
Each member of our local Colorado Springs staff  is knowledgeable, responsive, friendly and extremely good at customer service.  Check out our Google reviews for proof (opens in new window).
We are locally owned and managed. By working with us you are supporting local Colorado Springs families and the local economy.
We provide hands-on help at your business and work directly with your employees.  We will assist with employee meetings, adding or deleting employees and claim problems with continuous follow up.
Our team of small business health insurance brokers have one goal – we want you to forget about employee health insurance so you can focus on running your business.
How much does small business health insurance cost?
The cost of health insurance for your small business is based upon three major things. The age of the employees, the number of employees quoted, and the county that the business is headquartered in. Costs are individualized per group and will vary from business to business based on these three factors.
At Preferred Insurance we offer onsite or over the phone consultations and provide the information you need such as provider networks, out of pocket costs, co-pays, deductibles, and benefits services in your area. We ensure you understand the cost, the benefits and the options available as an employer.
What is group health coverage?
Group health coverage is a health insurance policy issued to a group – typically a business with employees – that covers all eligible employees and sometimes their dependents.
The various Colorado health insurance companies (Kaiser Permanente, Anthem, etc.) each create numerous medical insurance plans. The different plans are uniquely designed for the  needs of hundreds of types of businesses.
Group health coverage is obtain by a representative of the group – i.e. the employer – who purchases the medical insurance plan for the group.  Typically the employer will pay the insurance company the full fee for the medical insurance plan and deduct the employees portion from their paychecks.
Buying health insurance for your small business (group coverage) has different rules than buying health insurance just for yourself or your family (individual coverage).
The majority of non-Medicare or Medicaid covered Americans have group health insurance coverage through company sponsored group plans.
What is the benefit of group health insurance?
Group health insurance for small businesses in Colorado offers many benefits to both the employer and employees. A few examples include lower premiums, tax incentives, cost-sharing with the employer, a positive work environment, higher productivity, and higher employee retention.
Offering business health insurance and promoting employee wellness can help attract and retain employees. Preferred Insurance can tailor packages according to your employees needs and the goals of your business. Offering benefit packages reduces employee turnover, therefore decreasing waste and saving your company money.
Read the benefits of group health insurance to learn more.
Are group health insurance plans cheaper than individual?
Yes, group health insurance can be cheaper than individual health insurance.  If you own a small business in Colorado, it will be worth the time to speak to a group health insurance broker and see if you can save money with a small business group health plan.
How does a small business qualify for group health insurance in Colorado?
If you own a small business in Colorado with at least one full-time employee (30+ hours/week, not an independent contractor, spouse, relative, business partner or part-owner of the company) then you most likely qualify for group health insurance.
If you are self-employed with no employees then you are considered a small group of one and cannot buy group health insurance in Colorado.
Speaking with a small business health insurance broker is the best way to find out if you qualify for group health insurance.
Contact us to schedule a free group health insurance consultation and get the answers you need.