Employers Learn About Health Plans The Hard Way – Or The Right Way
Given all of the other responsibilities that Colorado business owners, HR departments, and company decision-makers juggle, it can be a tall order for an employer to learn about health plans as well. Your workforce's health, well-being, and productivity are on the line, making this a task that requires thoughtfulness, commitment, knowledge, and, critically, time. Lots and lots of time.
And while you have the thoughtfulness and commitment to do right by your employees by getting them the health insurance they need and deserve, you may not possess the knowledge needed to understand all the complexities and nuances of group health insurance. You likely also don't have the time to get that knowledge, compare the details contained in scores of possible plans, and figure out which plan is best suited to your company's needs and budget.
Because of these facts, many employers learn about Colorado's health plans through an experienced group health insurance broker.
Doing It Yourself Can Mean Driving Yourself Crazy
The magic of the internet allows us to research and learn about almost any subject under the sun. From minor home repairs to recipes to travel planning, a click of the mouse can deliver helpful information instantly. But not every issue is as simple as figuring out how to fix a leaky faucet or make the world's greatest brownies.
Undoubtedly, the internet is a valuable resource for employers to learn about health plans. You can visit the websites of the many health insurance companies that offer group plans in Colorado and see the features and benefits available in the many plans each insurer offers for businesses.
However, each plan can be hundreds of pages long. Health insurance policies may contain language, terms, and concepts that are unfamiliar, if not indecipherable, to even the savviest and most intelligent businesspeople.
Additionally, if you haven't tried to obtain group health insurance before, you may not know what to look for or be able to determine which plan is right for your company. Without such knowledge, it can be easy to make the wrong choice that leaves your employees unsatisfied, and leaves valuable tax credits available to qualifying Colorado businesses on the table.
Related Reading: Tips For Reducing Small Business Health Insurance Costs
But working with a licensed and independent Colorado group health insurance broker cannot only spare you costly mistakes but also save you countless hours of research, frustration, and uncertainty. Here is why working with an independent group health insurance broker in Colorado Springs is the bests way for an employer to learn about health plans in Colorado:
Brokers Know Health Insurance Inside and Out
Group health insurance brokers spend time daily immersed in health insurance coverage details. They are educated, trained, and licensed in health insurance matters and know how to compare plans and match a business with the right plan. They can turn the complexities of health care coverage into clarity, explaining how things work in plain, understandable language. Experienced brokers are seasoned guides, helping employers learn about health plans and the entire group health insurance landscape.
A Broker Will Provide You With Plenty of Options – And Help You Choose the Right One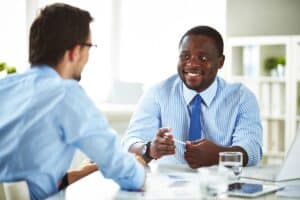 Independent group health insurance brokers in Colorado typically work with and can get quotes from several carriers. That means you'll get plenty of coverage options that offer a wide variety of features and benefits at prices that will fit your company's budget.
Importantly, an independent broker is not limited to any specific insurance company, and their income doesn't depend on recommending one insurer over another. This means they have no financial incentive to steer you in a particular direction. Their only focus and goal is to provide you with the options and recommendations that are best for your company, not what is best for them.
Time Is Money, and a Broker Will Save You Both
Unless you thrive on bleary eyes, headaches, and hours upon hours spent going through many different group health insurance plans and thousands of pages of coverage documents, working with a broker is the right choice.
When you hire a group health insurance broker, you can spend your valuable time running your company, not running around in circles trying to figure out the world of employer health coverage.
Preferred Insurance Helps Colorado Employers Learn About Health Plans and Get the Coverage Right for Them
Preferred Insurance works with Colorado small businesses to select and implement group health insurance plans that give their employees the best benefits at the most affordable rates. We are locally owned and operated and provide free quotes in less than 48 hours.
Speak with one of our knowledgeable independent health insurance brokers to arrange for a free consultation. We look forward to discussing your small business health insurance needs.