If you are reading this, chances are you have Medicare questions requiring clear answers – and clarity is not something easily obtained on the Medicare website. The intricacies of choosing a healthcare plan that will serve your needs as you get older can be intimidating, confusing, and overwhelming.
This article will provide answers to 5 of the most frequently asked Medicare questions we hear daily in clear terms that you do not have to be an insurance expert to understand.
Why You Need Clear Answers to These Medicare Questions
As mentioned above, selecting a Medicare plan can be confusing, whether you are first enrolling in benefits or need to make changes to accommodate current needs. But choosing the right plan is essential to your health and your finances.
Question 1: When Can I Enroll in Medicare?
Most Coloradans become eligible for Medicare as they approach their 65th birthday. There is a seven-month window surrounding your birth month when you can complete your initial enrollment – beginning three months before the month of your 65th birthday, the month your birthday is in, and the three months after your 65th birthday.
After your initial enrollment, you may change your plan during Open Enrollment, typically from January 1 – March 31 of each calendar year.
However, other health circumstances may make you eligible before your 65th birthday and qualify you for a Special Enrollment Period:
End-Stage Renal Disease
ALS (Lou Gehrig's Disease)
Other disabilities that entitle you to Social Security Disability benefits (with a waiting period)
Question 2: What Does Medicare Cover?
This is one of the most essential Medicare questions for first-time enrollees. Contrary to popular belief, original or traditional, Medicare does not cover everything, although it does cover a substantial portion of medical costs for members.
To keep it simple, Medicare Part A covers primarily in-patient hospitalization. Part B covers preventative care, some medical equipment, and ambulance services.
However, Parts A and B have deductibles, co-insurance, and other costs you will be responsible for paying.
Question 3: What Does Medicare NOT Cover?
Original Medicare does not usually cover prescription drug costs. If you need this coverage, you must enroll in a Medicare Part D plan at an additional cost.
Additionally, hearing, dental, and vision coverage are not benefits you receive through original Medicare.
Question 4: What Options Are Available to Help Me Pay For What Medicare Does Not Cover?
With the list of items that original Medicare does not cover, your next Medicare questions likely have to do with how you can pay for the services you need without spending your life savings.
Fortunately, two options are available from private insurance companies: Medigap Insurance and Medicare Advantage.
Medigap Insurance
Medicare supplement insurance, or Medigap Insurance, works in conjunction with Medicare Parts A and B but does not replace original Medicare. Medigap insurance aims to fill the sometimes cavernous gaps between what Medicare pays for and what hospitals and other medical services charge for healthcare services.
Medigap insurance plans are categorized by letters (i.e., Medicare Parts D-N). Supplement plans are standardized, meaning you receive the same benefits for each Part – only the cost for the plans will differ by insurer.
Medicare Advantage Insurance
Medicare Advantage plans, or Medicare Part C, are private insurance plans approved by Medicare. These plans provide comprehensive coverage for hospital care, doctor visits, and other medical services, combining the benefits of Medicare Parts A and B, except hospice care.
Most plans also offer prescription drug options and additional benefits like routine vision and dental care – much like the health insurance benefits you had prior to qualifying for Medicare.
Under Medicare Advantage plans, office visits, lab work, surgery, and many other services are covered after a small co-pay. All plans have a mandatory limit on annual out-of-pocket expenses for members and may offer either an HMO or PPO network.
It's important to note that Medicare Advantage plans require members to use doctors within their network. If you use out-of-network providers, these plans may cover fewer or none of your costs. In contrast, with Original Medicare, you have the flexibility to use any U.S. physician or hospital that accepts Medicare.
For a more comprehensive examination of the differences between these two plans, please refer to our article What is the Difference Between Medigap Insurance and Medicare Advantage Plans?
Question 5: Who Can Help Me Select the Right Medicare Plan?
As you can see, even with the promise of simple answers to Medicare questions, the information can still be confusing. If you are struggling to understand the nuances of Medicare, you are not alone. But what resources are available to help you get the answers you need to make an informed decision?
Your first option is to contact Medicare directly. Medicare has agents standing by 24/7 to help. However, these agents cannot give you the personal attention you receive from your second option: an independent Medicare insurance broker located in Southern Colorado.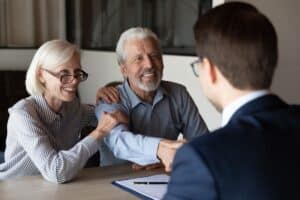 Medicare insurance brokers live and breathe Medicare and have the experience and knowledge you need to make critical decisions about your healthcare in your later years. So, who do you trust? A faceless voice on the phone? Or someone you can sit across the desk from, who will take the time to get to know you and your circumstances, providing you with the best options available and answering all your Medicare questions?
Preferred Insurance: Colorado's Trusted Medicare Insurance Broker for Over 30 Years
If you have Medicare questions, Preferred Insurance has the answers. As trusted Medicare insurance brokers in Southern Colorado for over 30 years, we have the knowledge and experience to guide you through your insurance options, all at no cost to you.
Schedule your free consultation with one of our brokers today.