If Your 65th Birthday Is Coming Up, So Is Medicare. You Need To Be Ready.
If you don't know when to enroll in Medicare and Medigap plans, you could miss the boat. If you don't know how to enroll in such coverage, you could find yourself missing that same boat again. There are particular time periods and processes for enrolling in both Medicare and the supplement plans that can pay for gaps in coverage.
If you see your 65th birthday rapidly approaching, here is what you need to know about when to enroll in Medicare and what you need to do to sign up.
When to Enroll In Medicare
Knowing when to enroll in Medicare is easy. You will need to sign up for Medicare during what's referred to as the Initial Enrollment Period (IEP). Typically, your IEP is the seven-month period that starts three months before the month you turn 65 years old and ends at the end of the third month after the month of your birthday. (For example, if your birthday is December 6, your IEP begins September 1 and ends March 31.) While you can still register for Medicare after your IEP ends, you will have to pay penalties, including a 10 percent increase in your Part B premium.
There is only one exception to the requirement of enrolling during your IEP. Individuals who continue to work past age 65 and have creditable health coverage through their employer can enroll in Medicare during a Special Enrollment Period (SEP) that starts immediately after losing coverage through their employer. This SEP allows them to get Parts A and B within eight months of losing coverage. However, the time frame for enrolling in Medicare Part C or Part D is limited to just two months. A financial penalty will be imposed if this time frame comes and goes without enrollment.
How To Enroll In Medicare
You can enroll in Medicare online if any of the following criteria apply to you:
You are within three months of turning 65 (or older).
You want Medicare benefits and don't currently have Medicare coverage.
You don't want to apply for monthly Social Security retirement benefits now.
You reside in the United States or one of its territories or commonwealths.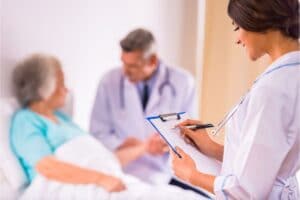 With Medicare's online application, which only takes about ten minutes, you can sign up for Medicare Part A (hospital insurance) and Part B (medical insurance). However, since Part B requires you to pay a premium for coverage, you can turn Part B down, signing up for only Part A.
You may not need to fill out a Medicare application, and the government will sign you up for Medicare Parts A and B automatically, if:
You are turning 65 and are receiving Social Security or Railroad Retirement Board benefits.
You are under age 65 and have received disability benefits for 24 months.
You have Lou Gehrig's disease (ALS) and get disability benefits.
More Questions About Enrolling In Medicare? Click to view our video to learn how Preferred Insurance can help you understand the complicated world of Medicare.
When to Enroll in a Medigap Plan
If possible, you should buy a Medigap policy during your six-month Medigap Open Enrollment Period, which starts the first month you have Medicare Part B coverage, and you are also 65 or older. Signing up for a supplement plan during open enrollment will generally get you better rates and more choices for coverage. You can purchase any Medigap policy sold in your state during that time, even if you have health problems.
But, if you wait until after the end of your open enrollment period to purchase Medigap coverage, you may find yourself out of luck. Although there are some exceptions, the private insurance companies who sell supplemental Medigap policies are not required to sell them to individuals who don't meet their underwriting requirements. For instance, If you have chronic health issues, some insurance companies may deny coverage, thus limiting your options. And, even if you can buy coverage, you will likely pay a higher premium.
You Might Like: Medicare Agents vs. Medicare Brokers
How To Enroll In a Medicare Supplement Plan
In Colorado, as in most states, there are ten standardized types of Medicare supplement plans, each identified by a letter, A through N.
Each lettered Medicare supplement plan must provide the same basic set of benefits regardless of the private insurance company from which you choose to purchase coverage. Price is the only difference between plans with the same letter sold by different insurance companies.
Medicare.gov has a handy and straightforward chart that compares the benefits offered by each type of plan.
Given the many options and features of different Medigap plans, the best way to choose between them and enroll in the one that's right for you is to meet with an experienced Medicare broker.
Preferred Insurance: Experienced Colorado Medicare Insurance Brokers
Medicare is complicated. The information you need to review and understand to make the right coverage choices can be overwhelming. That is where the experienced, independent Medicare insurance brokers at Preferred Insurance can help. From selection to enrollment to education and more, we can provide you with the knowledge and guidance that will allow you to make the best coverage decisions.
If you are a Colorado Springs resident nearing your 65th birthday, contact Preferred Insurance to schedule a free consultation to discuss your Medicare and Medicare Supplement Plan needs.