Medicare Brokers Offer More Options, Give Objective Guidance, and Work For You, Not Insurance Companies
Many Coloradans looking for help with Medicare may understandably think that there is no difference between Medicare agents and Medicare brokers. However, while agents and brokers both assist seniors in getting the coverage that best suits their needs, there are essential distinctions between these two types of Medicare advisors.
The most critical and fundamental difference is that Medicare agents work directly for or with a specific company or group of companies that offer Medicare supplemental insurance ("Medigap"), Medicare Advantage, and Medicare Part D prescription drug plans.
On the other hand, an independent Colorado Medicare broker is not beholden to any specific company or a limited set of plans. Instead, a broker can provide their clients with multiple options from all insurance carriers that offer coverage in the clients' area. Put another way, an agent works for an insurance company, but a broker works for you.
That is why so many individuals retain the services of independent Colorado Medicare brokers when reviewing and selecting coverage options. Whether you are just starting with Medicare or need new or additional coverage, your Medicare broker can be your best advocate, ally, and advisor.
Here is what you need to understand about the differences (and similarities) between Medicare agents and Medicare brokers and why getting the assistance of a broker may be the best way to ensure that you get the benefits and coverage you need:
Medicare Agents and Brokers Are Both Paid By Insurance Companies – But With a Big Difference
Whether you work with a broker or an agent, you will not have to pay them for their assistance, service, and expertise. Agents and brokers receive compensation from the insurance company when they help clients select and enroll in one of the company's plans.
There are two kinds of Medicare agents: captive agents and independent agents. Captive agents work for a single insurer and only offer plans from that company, while independent agents work with multiple companies. Both types of agents are paid directly by those companies. Here's how:
Captive agents receive a salary from the insurance company they represent plus a lower commission rate than independent agents.
Independent agents' income is primarily from commissions — which may be up to 50% higher than those paid to captive agents.
While brokers receive commissions from insurance companies, they don't work for them. Their businesses and income do not depend on enrolling their clients in one carrier's plans over another. They will make the same rate of commissions whether a client selects a Medicare supplement or replacement plan from Company A or Company B. This means their only incentive is to offer and choose the plan that is best for their client, not what's best for themselves.
You Might Like: What Are Health Insurance Costs When You Retire?
In addition to focusing on your best interests, working with a Medicare broker can offer seniors the following advantages.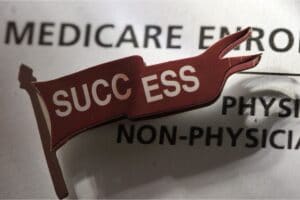 Expertise
Even if you've had health insurance your entire adult life, Medicare is an entirely new and unique form of coverage, unlike any plans you have been enrolled in before, be that from an employer or other private insurers.
If you had group health insurance through your employer, you didn't have much choice to do when it came to coverage. Also, you now likely face new health issues and financial concerns that come with retirement and aging.
With Medicare, you have significant choices to make about the nature and scope of your health insurance coverage. Additionally, the language of Medicare – things like Part A, B, and D, or Medigap – may be entirely foreign to you. Just the glossary of Medicare terms listed at Medicare.gov contains over one hundred entries! Whereas understanding this language may be confusing to the layperson, an experienced Medicare broker lives and breathes Medicare and can de-mystify the program so that seniors can make informed choices.
Options and Objective Analysis
As opposed to captive Medicare agents, independent Medicare brokers typically work with several insurance carriers, and their paychecks and livelihoods do not depend on selling policies from any single company. They can offer you many plans and coverage options and explain their differences.
Not only are your options increased with a Colorado Medicare broker, but these experts can also provide objective analysis and guidance based on what company and plan work best for you.
Independent Colorado Medicare Brokers Are Licensed and Qualified
Preview (opens in a new tab)Not just anyone can call themselves an independent Medicare broker. Before offering a single plan or providing services to an individual client, brokers obtain and maintain a professional license. This means they must have the knowledge, training, education, and qualifications to assist clients with Medicare coverage, including attending hours upon hours of required professional education classes every year.
Preferred Insurance: Colorado Springs Independent Medicare Brokers
Researching Medicare insurance plans can be overwhelming. That's why many local seniors trust the independent Medicare brokers at Preferred Insurance to help them select and enroll in the Medicare plan best suited to their needs and budget. We simplify the process and provide expert guidance so you understand what benefits come with your plan.
Speak with one of our experienced, independent Colorado Medicare brokers today.