The Medicare Help You Need Is Just a Call Away – And It's Free
Thousands of Coloradans turn 65 every year, meaning thousands of Coloradans each year exclaim the same thing: "Help me with Medicare!" That is because, after a lifetime of private health insurance coverage, seniors approaching their 65th birthday must figure out a new, unfamiliar, and complicated health insurance landscape. Making the right Medicare choices is essential to your health, well-being, and peace of mind. If you choose the wrong plan, miss essential deadlines, or discover too late that your coverage doesn't fit your needs, the consequences (and costs) can be substantial.
That is why, for many individuals in Colorado Springs, the answer to the question "Who Can Help Me With Medicare Decisions?" is an independent Medicare broker. Whether you want help understanding how Medicare works, determining your supplemental Medicare coverage ("Medigap") needs, or exploring your Medicare Advantage and prescription drug options, working with an experienced Medicare broker is the best way to get the right coverage at the right price.
How Can An Independent Medicare Broker Help Me with Medicare Decisions?
Here are four reasons to contact a Medicare broker when you need help with Medicare decisions:
A Broker Knows Medicare Inside and Out
Medicare is an entirely different ballgame, even if you've dealt with health insurance coverage your whole adult life. If you had group coverage through your employer or spouse's employer, there weren't many decisions to make. And you probably did not face the same health and financial issues as you will as a senior.
With Medicare, you'll have to make several significant decisions about the nature and scope of your health coverage. Additionally, the language and structure of Medicare may be entirely foreign to you – making it difficult, if not impossible, to fully understand what you need to do to get appropriate coverage. An experienced Medicare broker lives and breathes Medicare and can demystify the program so that you can make informed choices.
Not just anyone can call themselves an independent Medicare broker. Before offering a single plan or providing any services to clients, a broker must complete legally mandated education, training, and certification requirements to obtain a professional broker's license in Colorado.
A Broker Will Give You Plenty of Options Focused On Your Needs, Not Theirs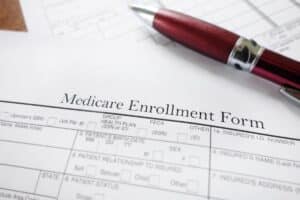 Independent Medicare brokers typically work with multiple insurance carriers, meaning that they will be able to explore all possible plans and coverages and present you with an array of options best suited to your needs.
Notably, a broker will not make more or less money in commissions by pushing one carrier over another. They have zero incentive to skew their analysis; their only mission is to find the right coverage based on their understanding of your health and financial situation and their comprehensive knowledge of Medicare.
Related Reading: Medicare Agents vs. Medicare Brokers 
A Broker's Expertise and Efforts Won't Cost You a Dime
If you worry, "that is well and good, but having a broker help me with Medicare is not in my budget!" we have good news for you. One of the best things about working with a broker to get help with Medicare decisions is that all of their expertise, time, and work they do on your behalf won't cost you anything. There are no fees to pay, and the cost of coverage will not increase when you use a broker to obtain coverage instead of doing so on your own.
A Medicare Broker Will Save You Lots of Time And Spare You Lots of Frustration
You are entering your golden years, where you can spend your time doing all the things you enjoy. So, unless your hobbies include sifting through hundreds of different insurance plans and thousands of pages of documents, working with an independent Medicare broker is an easy decision. They will spare you hours of frustration trying to figure out complicated and unfamiliar terminology or comparing the costs and features of dozens of coverage options. You've earned your retirement by working hard your entire life; let someone else do the heavy lifting regarding your Medicare needs.
The Answer to "Who Can Help Me With Medicare Decisions?" is Just a Phone Call Away
If you are about to turn 65 or your Medicare needs have recently changed, please get in touch with the experienced and welcoming Medicare brokers at Preferred Insurance for help. We are an independent Colorado Springs Medicare insurance broker. Putting our expertise to work for you will provide you with a simplified Medicare process and expert guidance. You will understand the benefits you are receiving and paying for – so you never have to wonder, "Who can help me with Medicare?" again.
Please contact Preferred Insurance today to schedule a free consultation to discuss your Medicare needs.