If You Don't Get Health Insurance Through Your Job, You Will Have To Get It On Your Own
Everyone deserves health insurance coverage, and those who don't get it through their employer, another family member's coverage, or Medicare do so through individual insurance policies. Individual and group insurance share many standard features and benefits, but the two differ in how coverage is obtained, paid for, and works.
What Is Group Health Insurance?
Group health insurance coverage means insurance provided by an employer to some or all of its employees. Not all Colorado employers are legally obligated to provide health insurance to qualified employees. Under the Affordable Care Act (ACA), companies with fewer than 50 full-time or "full-time equivalent" (FTE) employees do not have to provide group health insurance coverage to their employees.
When aa Colorado employer offers their employees group health insurance coverage to its employees, they usually do so through group health insurance plans. In Colorado, health insurance companies such as Aetna, Humana, Anthem, Kaiser Permanente, UnitedHealthcare, and several other insurers offer multiple group plans specifically designed for small businesses needs and budgets.
Here's how group health insurance through an employer works. A Colorado business selects a plan from one of the carriers and buys insurance for their "group" of employees and their dependents. An employer can only offer coverage to full-time employees, but they can also offer it to part-time employees if they choose.
A company that enrolls in a group health insurance plan will typically pay the total costs of coverage to the health insurance company and deduct premium contributions from the paychecks of employees who enroll in the plan.
Do Self-Employed People Get Group Coverage Or Individual Coverage?
Group insurance is not usually available for self-employed individuals with no employees (even if they hire independent contractors occasionally). People who cannot obtain group coverage can still get the critical benefits they need by purchasing individual and family health insurance plans.
However, if your business has even just one full-time employee, group health insurance is likely an option so long as that employee:
is not an independent contractor
is not your spouse or another relative
is not a business partner or part-owner of your company, and
works at least 30 hours per week
Related: Health Insurance for Electricians? What Independents and Small Companies Need to Know
Individual Insurance Coverage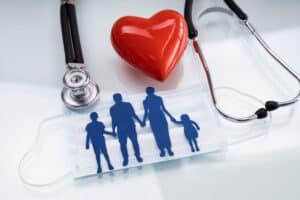 People who do not have group health insurance through an employer, spouse, parent, or school will have to obtain individual insurance or family health insurance coverage if they want to make sure that they are not left financially devastated in the event of a major illness or injury.
Individual insurance also refers to family health insurance coverage. The process for obtaining and enrolling in a plan is the same whether for an individual or their family. You can review and compare policy options and enroll in a plan directly through Connect for Health Colorado, the health insurance marketplace established by the State of Colorado to comply with the Affordable Care Act (ACA). Other options available are to purchase coverage directly from an insurance company or work with an experienced Southern Colorado individual health insurance broker to find the plan that's right for you.
You may want to consider that latter option for many reasons – working with a health insurance broker to help you choose and enroll in a plan. You may be unfamiliar with what to look for in a plan, how to match the right plan with your specific needs, and how to compare the various available plans.
Getting up to speed on the complexities of individual and family health insurance coverage can be time-consuming, confusing, and frustrating. You may not have confidence that you're picking the right plan, and if you do it yourself, you'll have no one available to answer the many questions you will likely have.
Colorado individual health insurance brokers like Preferred Insurance live and breathe health insurance. They have immersed themselves in its nuances, undergone extensive education and training, and must undergo a rigorous licensing process before offering their services to consumers.
They can walk you through your options, answer your questions, and propose the best health insurance solutions for you and your family. The best part is that a broker's services won't cost you anything.
Preferred Insurance: Colorado's Trusted Group and Individual Health Insurance Broker
Preferred Insurance works closely with companies and individuals throughout Colorado to find health insurance plans with the best benefits and rates. Locally owned and operated, we can deliver you a free quote in less than 48 hours.
Please contact Preferred Insurance today to arrange a free consultation with one of our experienced and knowledgeable brokers.