Providing Coverage For Your Workforce Is a Big Deal. Here's How To Do It Right.
As experienced Colorado business health insurance brokers, we often get calls from business owners or managers asking, "How do I buy group health insurance for my employees?" It's an important question, and getting the right answer from the right source is critical to offering your workforce the best coverage at rates that fit your company's needs and budget.
If you are in charge of finding and purchasing group health insurance coverage for employees, you undoubtedly understand all there is to understand about your business. You are also probably familiar with how individual and family health insurance works, being enrolled in a plan yourself. But no matter how much you know about your personal coverage, you may still be overwhelmed by the complexities and considerations of buying group health insurance for employees.
And busy as you are, you may not have the time to spend learning about the nuances of group health insurance, reviewing the lengthy details contained in many different plans, and determining which of those many plans are right for your business. For many Colorado business owners, the answer to "How do I buy group health insurance for my employees?" is working with an experienced health insurance broker who understands group insurance and the needs, concerns, and budgets of businesses.
While working with a broker will save you time and effort and result in you getting the best deal on coverage, here are some basics about buying group health coverage for your workforce.
What Is Group Health Insurance For My Employees?
Under the Affordable Care Act (ACA), businesses with 50 or more full-time or full-time equivalent employees must offer those employees a group health insurance plan that complies with the standards outlined in the act. Even though companies with fewer than 50 full-time employees do not have to offer health insurance coverage to their employees, many do so anyway because of the many intangible benefits and tax advantages of providing coverage to employees.
Several different insurance companies offer group health insurance plans for Colorado businesses, including:
Blue Shield of Colorado
UnitedHealthcare
Kaiser Permanente
Aetna
Anthem Blue Cross of Colorado
HealthNet of Colorado
You Might Like: Tips For Reducing Small Business Health Insurance Costs
Purchasing Group Health Insurance Coverage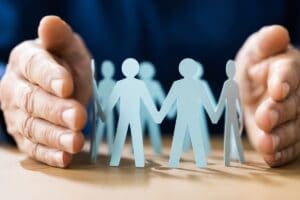 Here's how buying group health insurance coverage for your employees works. After selecting a plan from one of the carriers listed above, your company enrolls with the insurer and purchases coverage for the "group" (your employees and their dependents). While many businesses are either required to or choose to cover full-time employees only, you can also offer coverage to your part-time employees.
Once your company enrolls in a plan, the business will typically pay the insurer the total premium for the policy. The business can recover some of these premiums by making paycheck deductions from employees who sign up for coverage. An employee's contribution may vary depending on whether an employee signs up for individual or family coverage.
While your business can purchase group health insurance coverage for your employees directly from an insurance company, an insurance company won't provide you with all of the available coverage options. And they certainly will want you to choose one of their plans, not a plan from one of their competitors. But an independent group health insurance broker will explore and evaluate all available plans from multiple carriers and help you select coverage best suited to your company's needs and budget, all with no cost to you.
Related: How to Choose Health Insurance for Law Firms
Why Should I Work With a Broker?
There are many reasons your Colorado business should consider working with a group health insurance broker, but the two biggest ones may be expertise and time.
An exceptional and experienced group health insurance broker has the training, insights, experience, and resources to find coverage for all types of businesses and help them enroll in flexible plans with the best options. They will also save you and your company hours upon hours that you could spend focused on running your business instead of wading through hundreds of insurance information pages.
How Do I Buy Group Health Insurance For My Employees? You Get Help From A Group Health Insurance Broker.
Group health insurance is complicated. Even the savviest and most intelligent Colorado business owners find that navigating the complex landscape of group health insurance coverage takes time they do not have in their busy schedules. As an experienced Colorado group and individual health insurance broker, we can answer your questions and provide affordable coverage options.
Click here to schedule your free consultation with one of an experienced broker to discuss your group health insurance needs.